The Air-Pot System: Grow Larger, Healthier Trees in a Smaller Space Than You'd Think Possible
The Air-Pot®
Having recently discussed root anatomy here and here, and this being the time of year deliveries are being prepared and people may be thinking about pots and potting, I thought I'd keep to the root theme by writing about a particular system I use and thoroughly endorse: the Air-Pot®.
Please note: beware of cheap imitations. These are trademark-infringing knockoffs and of inferior quality to boot.

My experience is actually with a much larger version, and of an older design, to grow 10 year-old trees. They were chosen to contain largish trees and any suckering, without the side effects of inhibited root growth or root spiralling a container can cause. This is the first year we are selling two smaller versions of an updated, superior design, which are better suited to the one-year old tree size we sell.
The Air-Pot container is the original and the best air-pruning container around. These containers have been made in Scotland, UK from recycled plastic since 1997, and will last many years in our harsh Australian climate — I can absolutely attest to the strength of their UV-stabilisation! Air-Pot® is strong, tough and just plain works. They also look great and are great conversation-starters!
The Air-Pot® can be assembled, disassembled, reassembled and reused over and over again.
What is Air-Pruning?
Air-pruning is where growing root tips are allowed to become exposed to air, which causes them to dry out and die. This sounds rather debilitating to the tree, but in actual fact has the very desirable effect of causing many, and thinner, lateral roots to develop further back along the primary root. The end result is an incredibly fibrous and dense root system able to take up far more nutrients per volume than a similar tree in the ground would.
Air-Pot containers are highly-regarded by gardeners and horticultural experts worldwide for these superior and dense root systems that develop — root systems which allow a larger, stronger and healthier tree to grow in a smaller space than you'd think possible.
Watch this short three minute video to see how the Air-Pot® — and the concept of air-pruning — works! A very informative demonstration indeed.
On Suckering
A newly-delivered jujube tree in a dormant, bare-rooted state and ready for potting or planting, is likely to be mildly stressed when waking from dormancy. Not only has it lost its rhizosphere and root microbiome, but — unavoidably despite all care, many of its delicate root hairs.
But these trees are tough and settle well during their first year in their new home. And while some trees may send up a sucker or three during that first year in response to that stress, even in a container, it is my experience that well-watered and nourished trees, with their roots left alone, tend not to sucker as much after that first year, whether in any container or in the ground. When in the ground, keeping trees well-watered within the drip zone can also discourage suckering further out from the trunk.
The Air-Pot®, For Sale Through The Jujube Nursery
We offer the two sizes in the 'Air-Pot Garden' range that are best-suited for the young jujube trees we sell. The 20 litre large container with a blue base, and the 38 L extra large container with a black base. Each has a 'cone reservoir' around the rim which retains water.
Air-Pot Garden: Large (20 L)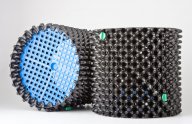 The 20 litre Air-Pot large container (with blue base)
Dimensions: 355 mm diameter × 320 mm high
This is an ideal first pot and you'll get several years' use from it before needing to repot.
Should you be interested in Air-Pot® for other plants, the 20 L container is also the perfect tomato pot, and does a superb job growing cucumbers, chillies, capsicums, eggplants and many other fruits and vegetables. Flowers and shrubs also grow well and are well-complemented by the Air-Pot®'s aesthetic design and goes-with-anything black colour. You can view images of these on our other site here.
Air-Pot Garden: Extra Large (38 L)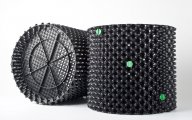 The 38 litre Air-Pot extra-large container (with black base)
Dimensions: 430 mm diameter × 375 mm high
This is the size to use when potting-up a tree grown in the 20 litre container above, and is actually a popular size for patio fruit trees in general — but do make sure plenty of sun reaches them for at least most of the day though.
Competitive growers of onions and leeks use this size, and other root vegetables such as carrots also do well — these giants have to be seen to be believed, which you can do so on our other site here!
I'm currently using this size to grow a Tibouchina topiary standard, and it's already looking stunning even without the flowers!
Pricing and Shipping
The 20 L Air-Pot® is $25 inc GST and ex shipping.
The 38 L Air-Pot® is $45 inc GST and ex shipping.
Like the jujube trees, the containers are extremely light but very bulky, and it's the bulk we pay for when shipping. Postage starts from $20 for one 20 L container and $27 for one 38 L container.
However, the above-mentioned Urban Heirlooms site is very new and I'm still fine-tuning the postage. You may be overcharged should you wish to buy more than one container of any size through that site. (I'm going to have to install additional software to calculate it more accurately and fairly — for example, I can, within reason, combine different sizes and numbers for the same price as sending a single 38 L container, or pack several flat or one nested inside another constructed one, but the shop software doesn't know that. Yet!)
If you are interested in any number and/or size, please do contact us for a postage quote, or just to ask any questions. We are also able to supply other sizes (not listed, but available) for other purposes.
Would you like to donate if you found this article interesting or useful?