Orders are now closed sorry, but you are most welcome to request to be on our waiting list for any surplus trees in winter 2020*, or to place a confirmed order for delivery winter 2021.
Please note we require a non-refundable 20% deposit to secure your order. (This does not apply to waiting list requests.)
* We may have spare trees available for delivery in 2020 should an order be cancelled or more grafts than usual 'take'. Please ask to be on our waiting list for such trees.
IMPORTANT:
We deliver to the ACT, NSW and Victoria, but not within the Pest Free Area (PFA) of NSW and Victoria owing to quarantine restrictions.**
We also do not deliver to Northern Territory, South Australia, Queensland, Tasmania or Western Australia owing to quarantine restrictions.**
** We can and will deliver to these regions if you wish to pay the quarantine inspection fee, but please note this may not be cost-effective for small orders.
TO ORDER:
Please get in touch with the cultivar(s) and number you would like. Please provide a name and address for invoicing purposes, and we will send an invoice, of which a 20% payment is required to secure your order. We accept direct deposit, Visa and Mastercard.
TREES ARE:
$110ea plus postage (in 2019 this ranged from $15 to $35 per order (not per tree), depending partly on number of trees, but mostly on postcode, owing to the bulk rather than the weight of each order),
grafted onto four year old rootstock,
about knee-height (will vary tree-to-tree, but typically from 40 to 60 cm from tip of tree to end of roots),
delivered bare-rooted and dormant (no leaves)
Delivered Bare-Rooted and Dormant
These are representative of what your trees will look like (and yes, the 'Li' tag does have a larger font than the others!).
Shown here are a Li (right, about 35 cm from tip to root ends), a Silverhill (left, about 50 cm from tip to root ends) and a Shanxi-Li (middle, about 60 cm from tip to root ends).
This does not mean that all Lis are the smallest — any cultivar could be any length within this range.
Don't be put off by their pathetic appearance here! Once they come out of dormancy they can really get growing — as shown here.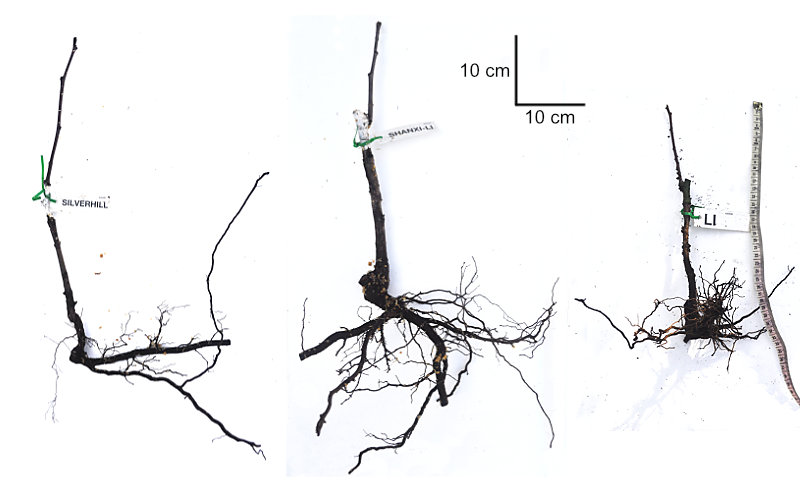 Available Cultivars
Your tree may differ in size and shape to the photos below when in leaf.