Overview on the Light-Independent Reactions of Photosynthesis
Photosynthesis can be broken down into the light-dependent reactions (covered earlier here), and the light-independent reactions which will be covered in this section. It is well worth getting up to speed on the light-dependent reactions first before proceeding here.
Both reaction types occur within the chloroplasts of cyanobacteria, algae, and plants. Fig. 1 shows a simplified diagram of a chloroplast.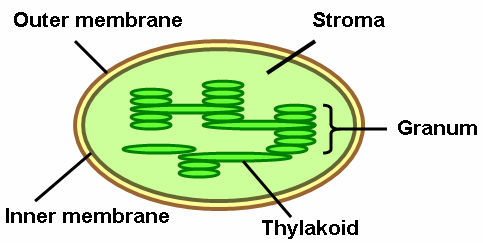 The light-dependent reactions occur in the membranes of the thylakoids within the chloroplasts (the dark green outlines in Fig. 1), but the light-independent reactions occur outside the thylakoids, in the stroma fluid they are suspended in.
The light-independent reactions are also collectively referred to as the Calvin cycle, and can be summarised in one diagram, albeit an involved one (Fig. 2):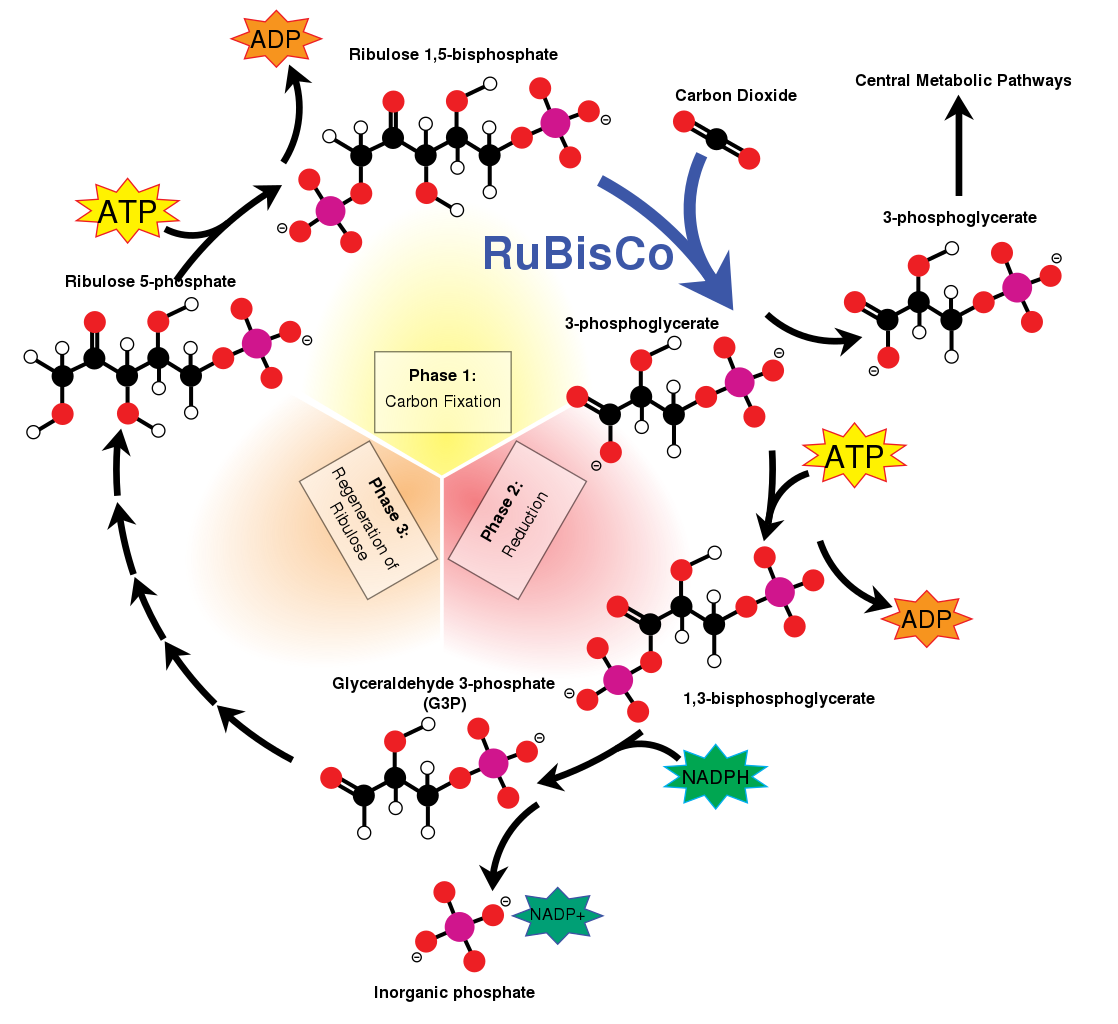 Whilst not clear from this diagram, remember that this is occurring in the stroma of a chloroplast. Thus the Nicotinamide Adenine Dinucleotide Phosphate (NADPH/NADP+) and Adenosine Triphosphate (ATP) shown entering the cycle are the same NADPH and ATP formed by the light-dependent reactions earlier, and which form in the stroma. These molecules then feed into the Calvin cycle to drive it further.
Calvin cycle reactions are called light-independent, as no photon input is required to drive them. However, this is a slightly misleading term, as this part of photosynthesis still requires the presence of light, as the NADPH created is very short-lived and needs to be replenished constantly — via the light-dependent reactions.
The cycle begins with the input of carbon dioxide (CO2). The carbon in CO2 is inorganic, but is 'fixed' into organic carbon (here, a carbohydrate) via the action of an enzyme, ribulose-1,5-bisphosphate carboxylase-oxygenase (RuBisCO), on another molecule called ribulose 1,5-bisphosphate (RuBP). This creates a very unstable, new molecule which immediately splits into two three-carbon molecules of 3-phosphoglycerate (PGA). One of these enters new metabolic pathways to create other carbohydrates, while the other remains in the cycle to regenerate more RuBP to begin the cycle over — helped with the previously made NADPH and ATP.
NADPH and ATP — formed via the light-dependent reactions — enter the cycle, react, and are converted to NADP+ and ADP respectively. NADPH loses two electrons and becomes NADP+; ATP loses a phosphate group and becomes adenosine diphosphate (ADP).
These two molecules remain in the stroma and are converted back into NADPH and ATP via the light-dependent reactions. And thus the light independent reactions are coupled to the light-dependent ones in this incredible two billion year old system.
---
Please help me buy a plant if you found this article interesting or useful!